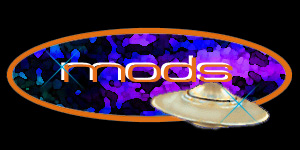 | | | | | |
| --- | --- | --- | --- | --- |
| Title | Style | Size | Format | Description |
| | Acid House/Break | 895 Kb | .IT | This is a wierd tune that starts off with an acid/tribal house twist and ends up an acid break at the end. |
| | Electro Break | 1.3 Mb | .IT | This is an electro tune reminscent of Uberzone and comparable groups. Sort of dark though. |
| | Funky Break | 1.56 Mb | .IT | This is a super funky break. Think of James Brown's "Funky Drummer"... |
| Dnb98.zip | Drum n Bass | 981 Kb | .IT | Here's a jungle mod. First track of the new year. |
| | House | 448 Kb | .IT | It's small, but it's one of my best house tunes yet. Early morning, uplifting house. |
| | slow beats | 1.93 Mb | .IT | Funky trip hop instrumental. |
| | Funky Break | 318 Kb | .IT | This is a short download but it's my favorite tune I've done. Fat hip hop flava. |
In case you have no idea....
This is a small collection of mods (tunes) that I have produced with Impulse Tracker. A tracker is software that enables anyone with an ordinary computer that has a soundcard to create electronic music. The downfall is that the sound quality isn't nearly as good as studio production, although it's a fun way to let out some creative energy. Who knows, maybe you can use your tracker songs as a rough draft for when you head to a real studio.
Due to the size of most music files created with Impulse Tracker, there's no feasible way I can post more than a few tunes at a time. Check back frequently as I will be adding new tracks often. All the tunes that I track tend to be funky breaks, acid house, or drum 'n bass.

You'll need to download some software in order to listen to these mods. You can either download the entire Impulse Tracker, and then try to figure it out. Your other option which I recommend is to download Mikit, which only plays the tunes created in Impulse Tracker, but is much easier to use.

How to play a tune using Mikit: Ok, this is super simple, but if I don't tell you it's a pain to figure out. First download Mikit from this page. Then download the tunes you want to hear. Next step would be to log off the internet and then use Pkunzip or Winzip to decompress both Mikit and the songs you've downloaded. Tunes created in Impulse Tracker have .IT at the end of each file name, so if you decompress it correctly it should look like this: SONGTITLE.IT

The next step would be to click on the tune and then Windows will give you the "Open With" menu box. Windows then expects you to choose a helper application with which to play the .IT file. Your next step would be to click the "Other" button which allows you to browse your hard drive. Locate Mikit and select it. It will ask you if you want to use Mikit as a default helper application for all .IT files. Choose "yes". This will help you down the road if you choose to listen to the .IT files more than once. After that the tune you selected will automatically play. If you're confused it's really a lot easier than it sounds, just try it!

Click here to download Mikit Version .91

Click Here to download Impulse

Tracker Version 2.14
If you have music that's worthy of posting on this page that was tracked in Impulse Tracker or Fast Tracker feel free to Email me a mod or two. I'll post them if they're good. Please don't send shwaggy tunes, or your first attempts because it takes too long to download!